Do you manage a small law firm with lackluster Internet marketing? Do you need just a little nudge to get started on a medical practice marketing plan that is more effective, better-looking, and more compelling to potential patients than your competitors' websites?
Take your first steps forward with Foster Web Marketing here. Do yourself a favor and read our free marketing resources geared toward highly skilled service businesses. These books contain proven methods that other clinics, attorneys, and other businesses have used to increase their clients and customers and get the cases and patients that they are looking for. Our books are based on real-world experiences and they will teach you techniques that have proven to work when executed correctly.
Website Design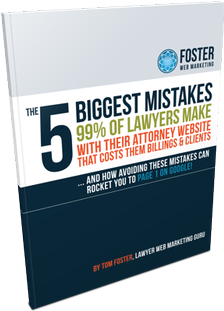 This report will demystify common SEO (search engine optimization) practices and help your ongoing efforts to capture more prospects and clients.
Request Information
Manage Your Own Website with DSS
Do you wish that there was an easier way to get your marketing done? This could be the solution you've been seeking for so long.
Get a Free Demo!
Use these Internet marketing strategies and techniques to get more potential clients—not just visitors!—from your website.
Get Your Free Book!
Video Production
Are you making these eight mistakes with your videos that could be handicapping all of your efforts?
Order Now!
Custom Content
The secret to converting clients from your site is the content on the page. Stop turning people away with boring content!
Request Information
Social Media
Wondering why you need to be involved in Google+? If so, order your free copy of our report, which will show you how to use Google+ to get clients!
Request Information
Lawyers know they need to take advantage of social media—but most have no idea how. This FREE report will guide even beginners to success with social media.
Download Now!
Marketing Education & Training
Want to learn the marketing secrets to simplify your life and increase your success? Then the 2014 Great Legal Marketing Summit is where you need to be!
Request Information
General
Who does Foster Web Marketing trust for their services? Which vendors' products do we integrate into DSS? Check out our Preferred Partners Page!
Request Information