Changing Graphics Give The Viewer Something To Read And A Reason To Stay
Foster Web Marketing continues to be a leader in web video optimization tactics. This video highlights the use of changing graphics and bullet points as an engagement tool. Using YouTube's analytics tool "hotspots", Foster Web Marketing is able to measure the engagement of any video they place on YouTube. Studies of the YouTube Hotspots feature reveal that videos with changing graphics on the screen like this one increase the liklihood that the viewer will continue to watch the video. It is innovative and forward thinking like this that helps Foster Web Marketing stay ahead of the pack. If you are a lawyer and want to know how web video can increase your chances of being found on the web, contact Foster Web Marketing today at 888 886 0939.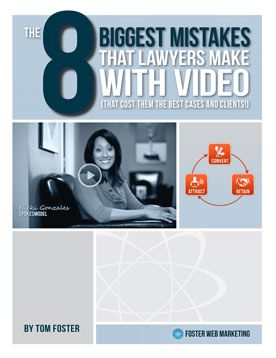 Are Your Videos Ruining Your Chances for Success?
Are you making these eight mistakes with your videos that could be handicapping all of your efforts?
View Details