Our Educational Webinars Provide the Latest Marketing Trends and Topics That will Help You Better Market Your Business
Foster Web Marketing is interested in educating lawyers, podiatrists and small businesses in the most recent marketing trends and techniques. These webinar video recordings go over a variety of important topics, but they all are meant to help you better understand marketing and why it is important for your law firm, podiatrist office or small business. The videos on this page provide business owners with a wealth of knowledge found nowhere else on the web. Our experts, who you can get to know below, will inform you of everything you need to know to succeed in web marketing. As you travel through all the different aspects of web marketing, make sure you check out the client testimonials for real-life examples of how our principles can be applied effectively. If you're interested in registering for one of monthly webinars, fill out the form here!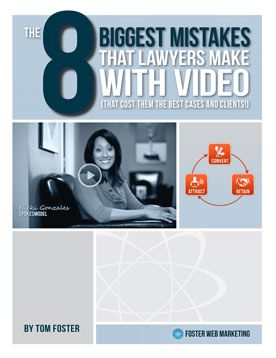 Are Your Videos Ruining Your Chances for Success?
Are you making these eight mistakes with your videos that could be handicapping all of your efforts?
View Details