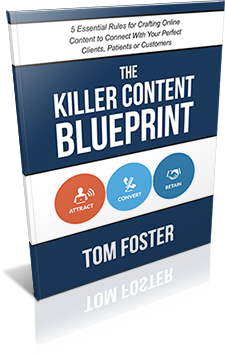 The Killer Content Blueprint: 5 Essential Rules for Crafting Online Content to Connect With Your Perfect Clients, Patients, or Customers
The Killer Content Blueprint: 5 Essential Rules for Crafting Online Content to Connect With Your Perfect Clients, Patients, or Customers (Second Edition)
Content is, and always has been, a major factor (if not THE factor) in search engine rankings. Content is the key to organic online marketing growth, which is more sustainable, authentic, and affordable than paid marketing. When it comes to internet marketing, there are few things as critical as excellent content. If you think website content is the same as other forms of writing, you are very wrong! Creating quality web content is an art AND a science, and you need to ensure that you're doing it right.
The internet is always changing. What worked five years ago might not work today, and you could do irreversible damage if you aren't staying current with best practices! That's why we've released the newest edition of The Foster Web Marketing Clients' Guide to Great Content; The Killer Content Blueprint: 5 Essential Rules for Crafting Online Content to Connect With Your Perfect Clients, Patients, or Customers.

Keep in mind that this book is not for everyone. It's designed for the podiatrist, attorney, or other highly skilled professional looking to get more cases or clients and generate a higher profit for their business.
As you dive into The Killer Content Blueprint, you will learn tried and true techniques for content writing. You'll discover:
The different types of content, why they matter, and when to use them
How content dictates the structure of your website, and why it's important
The truth about content and search engine optimization (SEO)
How to generate content topics
How to write content for humans AND search engines
How to do keyword research (and then use it)
Why do you need to read this book? We could give you a thousand reasons, but the most important reason is that it gives you the tools to write content that will ATTRACT, CONVERT, and RETAIN the clients that YOU want for your law firm, medical practice, or other business.
In the end, it's all about attracting the client or customer you most want to serve, and this book helps you get it done.
What's the secret to amazing website content that converts traffic into contacts? The only way you're going to find out is by getting our book, The Killer Content Blueprint!