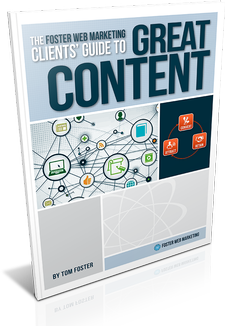 Stop Writing Boring Content! Learn the Secrets to Content That Get You Cases, Clients, and Customers
Download My Copy Now
If you think that website content is the same as other forms of writing, you are very wrong! Creating quality web content is an art, and you need to ensure that you are doing it right. You could be spending thousands of dollars to get traffic to your website, but you might be turning people off with your content!
What's the secret to amazing website content that converts traffic into contacts? The only way you are going to find out is by ordering our FREE report, The Foster Web Marketing Clients' Guide to Great Content.
Keep in mind that this report is not for everyone. It is designed for the doctor, attorney, or other highly skilled professional who is looking to get more cases or clients and generate a higher profit for his or her business. If you do not fit this description, this report is not for you!
As you dive into The Foster Web Marketing Clients' Guide to Great Content, you will learn tried and true techniques for content writing. You will discover:
How to create the perfect balance of content that pleases search engines and human readers
Why you need to incorporate different types of content, such as articles, blog posts, frequently asked questions, and more
Ways to overcome writer's block
Tips and tricks for coming up with insightful and creative content topics
How to properly optimize content that will help you get found without being penalized
And much, much more!
Why do you need to read this book? We could give you a thousand reasons, but the most important reason is that this book gives you the tools to write content that will ATTRACT, CONVERT and RETAIN the clients that YOU want for your law firm, medical practice, or other business.
In the end, it's all about attracting the client or customer you most want to serve, and this book helps you get it done.
What do you need to do next? Fill out the order form and download your copy. It's that easy!