As you've probably heard by now, you can claim a username on Facebook. The username that you choose will be embedded in the URL of your Facebook profile, which has obvious SEO implications.

When someone does a search for "Jack Smith", your Facebook page with a claimed username of "Jack Smith" will have a better chance ranking for that search because the URL of that Facebook profile will be

http://www.facebook.com/jack.smith

But did you know that you can also claim user names for your business pages as well? This adds an unbelievable SEO benefit because you can claim a username that includes your firm name and/or any keywords that you'd like to rank for.

An example: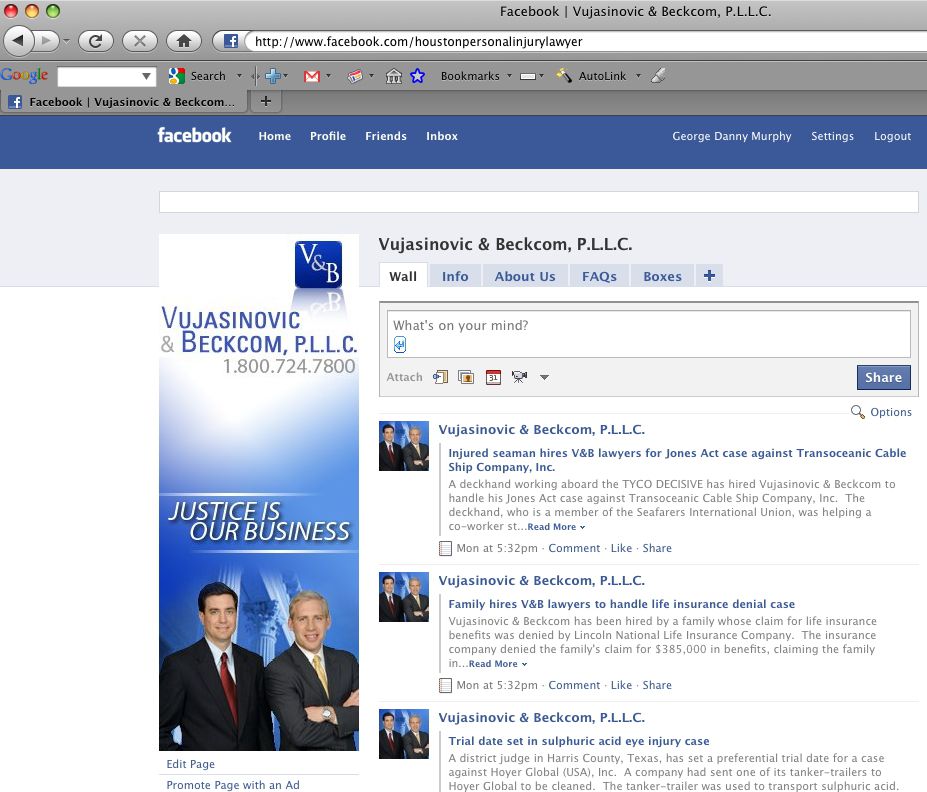 A client and good friends of ours, Brian Beckcom, has a Facebook page for his practice (a small Houston personal injury firm.

The URL of Brian's business Facebook page would probably be something like

http://www.facebook.com/pages/Houston-TX/Vujasinovic-and-Beckcom/8484and-a-bunch-of-other-random-numbers

But Brian decided to claim his Facebook username, which is now a lot more SEO-friendly

http://www.facebook.com/houstonpersonalinjurylawyer

How does this help with the search-a-bility?

Brian's Facebook page is now more able to
Be found on Google, Bing, and other search engines for "Houston personal injury lawyer", "Houston personal injury", "Houston lawyer", etc., and

Be found on Facebook for these related searches as well. Yes, people are using Facebook as a search engine, and this is becoming the case more and more after Facebook launched their real-time search feature.
How do you claim the user name (and SEO-friendly URL) for your Facebook business page?
Go to http://www.facebook.com/username/

Click on "Set a username for your Pages"

Select the business page that you'd like to set the user name for

Make sure you page is eligible
Your page WILL NOT be able to claim a username unless it has at least 100 fans, so be sure to invite as many friends, family members, past and present clients, business associates, and whoever else you can think of to obtain as many fans as you can.

Of course, most attorneys use Microsoft Outlook as their e-mail program and this may be holding you up from importing your e-mail contacts to Facebook to see who you can friend and expand your network (and Facebook Page Fans).

For more information on how to import your contacts from Outlook and other e-mail programs so that you can get more Facebook friends (and fans of your business page), visit this Facebook help page.