You can't always control what other people say about you, but if you take an active role in generating reviews and monitoring your online reputation, you can guide the conversation in a positive direction. Zach Stone will teach you how to get your happiest clients raving about you, leaving prospects with an awesome impression of your brand.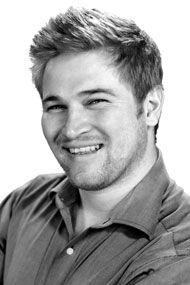 What you say about yourself online is equally important to what others are saying about you. Telling your story and branding your business will allow your audience to connect with you on a more personal level. People work with people they like, and Jamie Kelly is going to teach you how be likeable online.
Data is everything. Without it, we are blindly spending time, energy, and money. Mischelle Davis will teach you which data to collect, how to use it to determine your true ROI, and how to use the data to adjust and improve your marketing.
Monitor Your Marketing:
How to Create "Self-Improving" Campaigns and Systems for a Better Client Experience and Results

Presented by Dave Frees Friday, March 17, 2017

Dave Frees is a process master, and he's going to share his secrets with you. In this session Dave will help you evaluate your current marketing efforts, identify gaps, and outline a better, more efficient strategy. Implementing this stuff will leave you with a system that self-improves over time, meaning your marketing gets better with less effort.
DSS™ is not just a platform to update your website, it is also a tool to improve the client experience through better marketing. From start to finish, your website, your marketing, and your message needs to provide a positive impression. Karen, Connie, and Mischelle will teach you how to use DSS™ to do just that.
Paid ads can either provide a boost of excellent, qualified traffic, or they can be an easy way to waste money. Zach, Molly, and Dave will teach you how, when, and where to spend your money for a profitable return on investment.
Print Assets and Copywriting

Print Marketing Analysis

Presented by Kia Arian and Molly McCormick Saturday, March 18, 2017:
Digital marketing is absolutely crucial, but nothing can replace the benefit of tangible print marketing. Kia and Molly will evaluate and help strategize how to create engaging copy and beautiful print advertising.
Print Assets and Copywriting:
Copywriting That Works

Presented by Lindsey Daher and Charley Mann Saturday, March 18, 2017

Content and copywriting will always be critical to your business. While fads come and go, words will stay. Join Lindsey and Charley to learn how to create the most engaging copy through story telling..